Forgiveness's Dirty Little Secret
Posted on

sdgale

on

December 19, 2016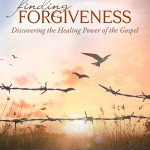 Have you ever been camping? Living outdoors and trudging in the woods for days. You arrive home exhilarated but exhausted. What's one of the first things you want to do? Shower. A nice, long, hot shower. You can feel the sweat and grime running down your body and into the drain. It makes you feel like a new person.
John describes the forgiveness of God in that way. "If we confess our sins, He is faithful and just to forgive us our sins and to cleanse us from all unrighteousness" (1 John 1:9).  There it is: "cleanse," and it fits the bill to perfection.
Think about a guy feeling nothing but shame and disgust with himself for viewing pornography. For him the thought of being cleansed by the blood of Jesus Christ bathes his soul. Or a woman saying unkind things about her husband, tearing him down in the eyes of her friends, the grime of gossip clinging to her. She revels at the thought of the blood of Jesus cleansing her from all unrighteousness.
The concept of cleansing well captures the experience of forgiveness in purification from the defilement of sin and stain of guilt. David, weighed down with his sin of adultery, murder, and unfaithfulness to God and the people he shepherded, yearned for that washing of grace: "Wash me thoroughly from my iniquity, and cleanse me from my sin." (Psalm 51:2)
Cleansing carries overtones of ceremonial purification, wherein the profane is made holy; the unclean set apart. But as pleasing and suitable as the idea of cleansing is, it is not the image to best capture the forgiveness God grants us through confession of sin.
Imagine yourself, grimy and grief-stricken with recent sin. The Spirit of God has brought you to your senses. Guilt weighs heavily on your heart. At God's invitation (1 John 1:9) you pull up to the laver of Christ's blood to confess your sin, washing off the guilt and stain with assured forgiveness. But what happens if you miss a spot? Does some stain of sin remain if you forget to confess a particular sin, like you might not wash the back of your neck after that camping trip? Does sin missed mean guilt remains?
John highlights three things that fortify our confidence. One, when we confess our sin John informs us that God is faithful and just to cleanse us from all unrighteousness. The whole of our sin is in view, not only that which we are confessing that the Spirit has convicted us of but the entirety of our record of sin—past, present, future; omission and commission; thought, word and deed.
Two, forgiveness of sin is found not in the confession of sin but in the confession of Christ. That's why John highlights God's faithfulness and justice. The price of our sin was paid at the cross. The demands of justice were exacted. John stresses that when he goes on to say: "My little children, these things I write to you, so that you may not sin. And if anyone sins, we have an Advocate with the Father, Jesus Christ the righteous. And He Himself is the propitiation for our sins, and not for ours only but also for the whole world" (1 John 2:1–2). In other words, our sins are forgiven not simply because we admit them but because Jesus atoned for them, suffered the penalty for them, and serves as our Advocate interceding for us.
Third, God brings us to Christ not so much to be forgiven as to find forgiveness. That's why the metaphor of debt is more helpful for understanding the power and scope of forgiveness than that of cleansing. Cleansing speaks more to our conscience; debt to our predicament.
When we draw near to the throne of grace to confess our sin, it's like our being handed a ledger. We open the register and run our finger down the column to that particular sin that has brought us to the throne of grace. Beside it we see these words: "paid in full." As our eye scans the page we note the same declaration beside all our transgressions, every debt of sin.  By faith in Christ, we are debt-free.
It is in this sense that when we confess our sin, we do not receive forgiveness so much as we realize it. Jesus paid it all; all to Him we owe. From that realization, the wonder of grace dawns anew in our hearts. We are humbled before such amazing love. And, purposing to new obedience, we beseech our God for grace to bring forth fruit in keeping with repentance.
For more on the study of forgiveness see my book, Finding Forgiveness: Discovering the Healing Power of the Gospel (Reformation Heritage Books, 2016)